THIS PIECE IS SUBJECT TO FURTHER SCRUTINY PLEASE…
BALOGUN OSHODI TAPA AT A GLANCE!!!
CHIEF BALOGUN OSHODI TAPA.
Chief Balogun Landuji Oshodi Tapa was an outstanding warrior and a statesman. During the reign of King Eshilokun, he immigrated to Lagos and his uncle Yadonle from Bida in what is now known as the Niger State. This was after he had lost his parents in a tribal war when he was only 12years old. After the death of his uncle, He put himself under the protection of the King as his servant in order to prevent himself from being taken and sold into slavery. The King in turn put him under the supervision of one of his trusted men, Fagbemi Odunnran.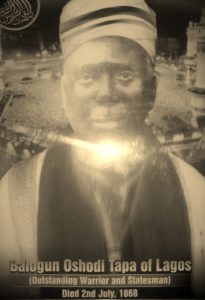 Some years later, one of the Portuguese merchants, a friend of King Eshilokun, asked the king to let two of his children accompany him to Portugal and he promised to bring them back. The King was very wary of this offer and he thought instead of risking the lives of any of his own children, he would offer two people loyal to him. Hence he chose Oshodi and Dada Antonio to go with the Portuguese merchant.
While the King thought he was protecting the interests of his own children, he was in fact denying them an opportunity that would have benefited them more in the future. Oshodi and Dada Antonio went with the Portuguese merchant to America and they were later returned to the King after many years. On arrival from America, Oshodi was employed by Messrs. G. L. Gaiser as a Commission Agent and Toll Collector. With the arrival of the ships of the Portuguese merchants, business flourished, and Oshodi's commissions from sales increased and he eventually became a rich man. Oshodi never forgot the hands that fed him, so to speak; he continued to be loyal to the King and was made a chief solely responsible for looking after the King's wives. He was the only one who could go into the Queen's apartment to oversee repairs, if the need arose. After the death of King Eshinlokun, Chief Oshodi remained loyal to his children. He particularly cast his lot with Idewu Ojulari who succeeded his father. After the reign of Chief Idewu Ojulari, Kosoko, a son of Eshinlokun, was said to be the rightful heir to the throne, but he was an enemy of Chief Eletu Odibo, whose duty was to install and crown any new king. It was said at the time, that young Prince Kosoko had seduced Eletu Odibo's would-be wife. In retaliation, Eletu Odibo used his powerful position to crown Oluwole as the next King of Lagos in 1836.
Kosoko and other descendants of King Eshilokun were not satisfied with the decision and were ready to show their resentment. They waged a war against King Oluwole and Chief Eletu Odibo. Kosoko and his warriors invaded Isale-Eko. The battle was fierce and prolonged but ended with victory on the side of the king's army. Kosoko fled to Whydah, realizing the consequences of his action.
When King Oluwole died, Akitoye was crowned in 1841 as the next King of Lagos.
Conscious of the right of Kosoko to the throne, Akitoye justly decided to search for Kosoko his nephew, who had taken refuge in Whydah. He believed that he must enjoy his patronage while on the throne. Akitoye organized a search party under the command of bold and gallant Chief Oshodi. The rapidity with which the party achieved its success was directly related to the military might of Chief Oshodi.
Kosoko finally returned to Lagos with Chief Oshodi in a vessel belonging to a merchant called, Domingo.
Henceforth, Chief Oshodi worked to maintain peace between Kosoko and Akintoye, and eventually brought the two together on terms. The peace effort was thwarted by Chief Eletu Odibo who had employed all the persuasive words he could, to dissuade King Akitoye from bringing Kosoko back to Lagos. He believed that Lagos would not contain the two of them. For a while, he did all he could to create conflicts between them, but later left Lagos for exile in Badagry.
When a war broke out between King Akitoye and Kosoko, Chief Oshodi loyally pitched his tent with Kosoko, the son of Eshilokun, through thick and thin. Akitoye asked Eletu Odibo to return to Lagos with his warriors to fight on his side. Akitoye's men led by Eletu Odibo were soundly defeated. Eletu Odibo was captured in an ambush and killed With the death of Eletu Odibo, the elders advised Akitoye to escape to his mother's town in Abeokuta. When Kosoko heard about the plan, he detailed his war chief, Oshodi, to lay ambush for Akitoye, kill him, and bring his head before him. Akitoye was in fact caught by Oshodi in the Agboyi waters, but instead of killing him, he paid homage to him and his Lord and prayed for his safe journey and safe return. Chief Oshodi returned to report to Kosoko that Akitoye had escaped by the use of a powerful charm which put them all to sleep when he was passing. Historians were not able to assign any reason for the treatment which Oshodi gave Akitoye when in fact he was on orders to bring his head to Kosoko. In 1845, Kosoko defeated Akitoye and ascended the throne. In the meantime, Chief Oshodi remained Kosoko's "Abagbon" war chief. While in exile, Akitoye appealed to the British Government for help to restore him to his throne. A war broke out; the British started to bombard Lagos, setting the town on fire. Kosoko's defense under the command of Chief Oshodi was effective and modern by the international standard of the time. After nine days of consecutive serious military actions, the British fleet unleashed excessive gun power which resulted in the defeat of Kosoko's fleet. Under this unfavorable condition, Kosoko had to flee to Epe with Chief Oshodi and his warriors on the night of the13th of August 1853.
Akitoye was brought back to Lagos by the British Consul and was restored as the King of Lagos. Akitoye died on the 2nd of September 1853, about two weeks after Kosoko and his men had fled. In the afternoon of September 3rd, 1853, his son, Dosunmu was formally installed as the King of Lagos.
Although the war seemed to have ended with Kosoko in exile, there were sporadic raids on Lagos from Epe; disturbing the peace and trade of the island. The raids caused the British Consul Campbell, the Elders, and White Cap chiefs of Lagos, to initiate a move to reconcile the warring royal relatives.
On the 26th of January 1854, a peace conference, historically known as Langbasa meeting, was held at Agbekin (Palaver Island) about four months after King Dosunmu's coronation. The British Consul's party included the Commander of HMS Plato with other officers under his command, and Kosoko's party which included Chief Oshodi Tapa and Chief Onisemo Adeburusi of Epe. They came without Kosoko in about sixty canoes each containing forty men. King Dosunmu was represented by several white cap chiefs and war chiefs.
At the opening of this remarkable conference, the Epe people, led by Chief Oshodi Tapa expressed their strong desire to return to Lagos a to the British Consul and be at peace with their friends and relatives. Chief Oshodi proposed that Kosoko be allowed to return to Lagos and live as a private person.
The proposal was not agreeable to the Consul on the basis that two Kings could not rein in Lagos. As an appeasement, Chief Oshodi was offered to return alone as the Consul for the people of Epe, but he declined the offer and insisted on Kosoko's return from exile. Several years later in 1862, Kosoko was allowed back to Lagos with his war chief, after signing a peace treaty negotiated with the British Consul by Chief Oshodi.
Governor Glover was very grateful for Chief Oshodi's contributions to peace in Lagos. On their arrival to Lagos, Governor Glover sought permission from Aromire to give part of Epetedo to Chief Oshodi. For himself, his family, his followers, and servants who returned with him from Epe, he held the area under the native customary law of land tenure, subject to the native system of the devolution of land. The palace of Oshodi is located in the center of the area of land in Epetedo. The area is uniquely laid out into 21 compounds. Six of these compounds; Oshodi, Akinyemi, Ewumi, Alagbede, Ajagun and Aina Jakande. courts belong exclusively to Chief Balogun Oshodi's extended family.
For the most notable and extraordinary role of Chief Oshodi in the restoration of peace to Lagos and his contribution to the Government of Lagos, he was presented by Governor Glover on the Lagos Race Course grounds with a sword from Mr. Cardwell, the Secretary of State to the British Government. The sword was inscribed "presented by the Government of Queen Victoria to Chief Tapa in commemoration of the loyal services rendered by him to the Government of Lagos" With his background of having been to America, Oshodi did not miss the opportunity to educate his children. He solicited Governor Glover to educate one of his children in England. This child later assumed the surname of Oshodi-Glover.
Chief Balogun Oshodi Tapa died on 2nd of July1868 about six years after his return from exile in Epe, leaving forty six surviving children. His body was laid to rest at the center of Oshodi Street in Epetedo, Lagos. The descendants of Chief Oshodi constructed an imposing edifice at his burial site, as a monument to the memory of the renowned warlord, peacemaker, and statesman. This monument has been classified as a historic site by the Lagos State Government.
CHILDREN OF CHIEF BALOGUN OSHODI TAPA OF LAGOS.
1. Feyishitan Daudu Oshodi
2. Faronke Oshodi
3. Shado Oshodi
4. Ewumi Oshodi
5. Asunmo Oshodi
6. Lande Oshodi
7. Amore Oshodi
8. Ambintan Asogba Oshodi
9. Okilu Oshodi
10. Alli Igunnu Oshodi
11. Salu Asogba Oshodi
12. Lashimi Oshodi
13. Rabiu Eshugbayi I Oshodi
14. Cordelia Kobile Oshodi
15. Joseph II Oshodi
16. Lawani Eshugbayi II Oshodi
17. Amosu Oshodi
18. Oteyinka Oshodi
17. Momo Awosu Oshodi
18. Oterunmi Oshodi
19. Asatu Oshodi
20. Moshisa Oshodi
21. Idewu Igbo Oshodi
22. Fabiyi Oshodi
23. Idewu Olukotun Oshodi
24. Joseph II Oshodi
25. Asun Oshodi
26. Ambose Oshodi
27. Lagbayi Oshodi
28. Oteshimi Oshodi
29. Abu Oshodi
30. Adeogun Oshodi
31. Adeshi Oshodi
32. Dada Oshodi
33. Iyatomi Oshodi
34. Etikuron Oshodi
35. Henry Fatusi Glover Oshodi
36. Apotun Oshodi
37. Adebowale Oshodi
38. Dada Omotinuwa Oshodi
39. Aina Oshodi
40. David Oduntan Oshodi
41. Sakariyawo Oshodi
42. Faye Oshodi
43. Ambose Bese Oshodi
44. Barikisu Fabi Oshod
It remains unclear how the ruling houses were determined by the Chieftaincy Committee under the Obas and Chiefs Law of the century. Nevertheless, the following are the twelve ruling houses in the Oshodi Tapa Chieftaincy according to the Registered Declaration:
Ruling Houses:
1. Feyishitan
2. Eshugbayi
3. Fatusi
4. Obadimeji
5. Jose
6. Lagbayi
7. Sakariyawo
8. Amore
9. Ewumi
10. Kobile
11. Modina
12. Alli-Igunnu
In the event of a vacancy, the order of rotation is as above, starting from Feyishitan Ruling House having taken into account those ruling houses that had produced chiefs after Chief Balogun Oshodi Tapa.